Animals
Many of the fall seasonal outings have petting zoos, pony rides, or other animal exhibits as well.
Folsom City Zoo Sanctuary

This small animal sanctuary has a heavy emphasis on native species to california, such as wolves/hybrids, birds, bears, and deer. Peacocks that run loose in the zoo are a highlight. There are restrooms and a snack bar at the entrance to the zoo and a train ride nearby for children and parents.

Photo by J. Brown

Nimbus Fish Hatchery

Great place for toddlers to feed fish or explore the visitors center. No admission fee. Fish food can be purchased from a vending machine that only takes nickels, bring your own container (eg: ziplock or paper cup). One exit west of Folsom Blvd off Hwy 50. Exit Hazel Ave heading north/right. Left at Gold Country Blvd, then right into parking lot.

Photo by Ginny W.
Hagen Community Park

A 75 acre park, which, aside from playground(s), also offers other features such as a petting barn (open in summer only), miniature steam train ride (first weekend of each month), community center, and aquatic center. A parking fee is required in peak season. Off Zinfandel Dr. Storytime in the Barn Review Park Review

Photo by Kids Busy Book

Sacramento Zoo

3930 W Land Park Dr, Sacramento

There are restrooms and snack bars at the zoo, picnic are also permitted. This zoo has giraffes and other larger animals (no elephants though) not found at the Folsom zoo, and is larger and nice and flat (no steep hills). You can even feed the giraffes for a small fee. Also has other attractions like a carousel and wheeled train ride in addition to the animals.

Photo by J. Brown
Amusement Centers
Sacramento
3930 W Land Park Dr, Sacramento

In William Land Park, across from the Sacramento Zoo is a fairy-tale themed park for kids, with metal twirly slides, the little engine that could, Cinderella's carriage, McGregor's barn, and animals like the three little pigs and Little Bo Peep's sheep.

Photo by J. Brown

Funderland Amusement Park

A small scale amusement park that has 9 child size rides, of which 7 can be ridden even by 2 year olds. Rides such as spinning tea cups, small roller coaster, train ride, carousel. Near Sacramento Zoo and Fairytale Town in William Land Park.

Photo by Isaac C.
Miniature Golf
See also: indoor mini-golf
Kid's Train Rides
50 Natoma St, Folsom

This miniature steam train has it's station just behind the Folsom Zoo. A 3/4 mile (10 min) ride will take you over past the library, through the station, over behind the zoo and back. Hours vary seasonally. Special holiday lights rides in December.

Photo by J. Brown
Hagen Community Park (Rancho Cordova) First weekend of each month. Miniature steam train.
Sacramento Zoo (wheeled train, not included in base admission)
Movie Theaters
West Wind Sacramento 6 Drive-In

9616 Oates Dr, Sacramento

This drive-in theatre is just off Bradshaw Rd & Hwy 50. Children 5-11 years are only $1 each, and children under 5 are free. Showtimes, however, may be after many kids bedtimes.

Photo by Cammie G.
Food/Shopping with Outdoor Play Areas
Folsom
McDonald's

Has a small outdoor climbing structure with a train theme, and a toddler play area under the structure. At the corner of East Bidwell and Wales.

Photo by J. Brown

McDonald's

6612 Folom-Auburn Rd, Folsom

Has a playplace play structure outside which is mostly a long climbing tunnel leading to a slide, and a tic tac toe game–nothing too intimidating for younger climbers. Large shade canopies here as well. side view of play structure.

Photo by J. Brown

Skipolini's Pasta and Pizza

This full-service sit down restaurant has fenced patio seating (with shade umbrellas) next to a small play structure. Alternate View (Photo) by Skipolini's Facebook page..

Photo by J. Brown

Carl's Jr.

Has a large fully shaded three-level outdoor play structure with tunnels, slides, and windows.

Photo by J. Brown
see similar places with indoor play areas
Roseville
Galleria At Roseville (1151 Galleria Blvd, Roseville) – The Galleria has an outdoor playground, downstairs, in the Prominade near the food court. It includes a climbing structure, soft climbing items for toddlers, and a musical floor tile.
Education
Safetyville

3909 Bradshaw Rd, Rancho Cordova

An educational 1/3 scale miniature city teaching safety skills about preventable accidents like fire and pedestrian safety. Organized tours are available for groups of 10+ (suggested for preschool age or above). Smaller groups can take a self-guided tour during open hours. Small admission fee required.

Photo by Annette

2850 San Lorenzo Way, Carmichael **

The Effie Yeaw Nature Center is an award-winning environmental and cultural education center located within the beautiful American River Parkway. Their 100-acre nature preserve features interpretive trails that meander through the riparian woodlands along the American River and tours and educational programs are available. **Please double check directions into the park as GPS may lead you through a closed road.

Photo by Kids Busy Book
Hiking, Biking And Trails
Humbug-Willow Creek Trail

East Bidwell & Creekside Dr, Folsom

This bike and pedestrian friendly trail combines the best of city and country sightseeing as it snakes alongside Humbug and Willow Creeks. The trail takes you up to a bird refuge area (near Castle Park) that is beautiful any time of year, particularly the spring and summer. Bike Trail Directions

Photo by MyFolsom

Serrano Trail

Serrano Pkwy & Silva Valley Pkwy, El Dorado Hills

From Hwy 50, take the El Dorado Hills Blvd exit. Turn right on Serrano Parkway, turn left on Silva Valley and immediate right into Visitor Center 's parking lot (just past the El Dorado Hills Library). Much of this trail is gravel.

Photo Credit: © Memories by Michelle Photography 2013

Bullfrog Gulley Trail

off Serrano Pkwy, EDH

From Hwy 50, take the El Dorado Hills Blvd exit.; turn left on Lassen Lane and park in Cornerstone Christian Church parking lot (931 Lassen Ln). Bull Frog trail starts off of Serrano Parkway, just past the golf course entrance, on the left. This trail is paved so it is stoller friendly.

Photo by Mike

Francisco Blvd and El Dorado Hills Blvd, EDH

This scenic dirt trail starts at Wild Oaks Park and continues all the way toward Browns Ravine, crossing four bridges–one of which (use caution) only has a hand-rail on only one side! Much of this well-marked trail meanders through hillsides with oak trees, and occasional road crossings.

Photo by Mike

7000 Baldwin Dam Road, Folsom

Nature area adjacent to Lew Howard Park. Unpaved, approximately mile loop through natural oak woodland. Has a few mild inclines, but nothing a preschooler couldn't handle. Better for backpack carriers than jogging strollers. Much of the trail is shaded by trees, but bring a hat and water. There are 50 numbered markers at various spots along the providing a self-guided nature awareness tour.

Photo by City of Folsom
New York Creek Trail (EDH) – A (mostly) wide 1.6 mile dirt trail good for mountain-biking walking or running that runs from CSD park to Art Weisbug Park.
Browns/Ravine Folsom Lake – On the eastern shoreline of Folsom Lake State Recreation Area there are several miles of high quality dirt trails for hikers, runners, equestrians, and mountain bikers. Not all trails are suitable for all types of uses.
Further resources: DiscoverFolsom has a detailed list of the over 32 miles of paved bike/recreation trails running throughout Folsom. A map of the trails is also available from the City of Folsom's Parks and Recration Department.
More Photos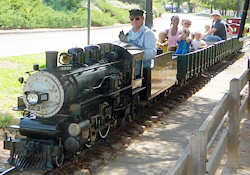 Folsom Valley Railway (J. Brown)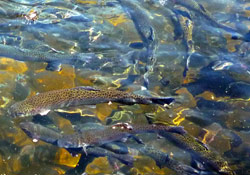 Nimbus Fish Hatchery (J. Brown)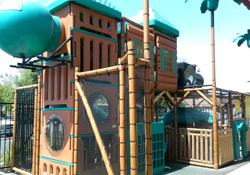 E. Bidwell McDonalds (J. Brown)
Additional Ideas