Come to the Throne of Mercy and Grace (Heb 4:14-5:11)
Review
So far we've seen that Chist is greather than prophets, angels, Moses, and Joshua. Now we'll see how Christ is greater than the levitical priesthood.
Jesus

>>

Prophets

Angels

Moses

Joshua

Levitical
Priests
Christ >> Levitical Priesthood
Heb 4:14 Therefore, since we have a great high priest who has passed through the heavens, Jesus the Son of God, let us hold fast our confession. 15 For we do not have a high priest who cannot sympathize with our weaknesses, but One who has been tempted in all things as we are, yet without sin.16 Therefore let us draw near with confidence to the throne of grace, so that we may receive mercy and find grace to help in time of need.
important idea for Jews who were used to approaching God through the high priest from the Levitical Priesthood.
Jesus was not a priest while he was here on earth (he was from the tribe of Judah, not Levi, he paid taxes at the temple that priests were exempt from), not in the priestly line, but the kingly
Christ's Offices

Then

Prophet

Now

Priest

Future

King
…let us again hold fast to our confession (4:14). Notice its saying hold fast to our confession (our witness), not hold fast to our salvation. The risk is not losing salvation, but not clinging to what we've confessed.
Hold Fast to Our Confession

because our High priest can
sympathize with us in our weakness.
4:15 – our Lord sympathizes with our weaknesses.
4:16 the devil tries to get us to run away from God not run to the throne of grace in our time of need.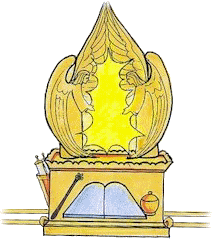 the mercy seat is always sitting on the ark of the law.
Boldy (4:16) = not the same as brashly, it denotes rather a freedom of speech with God.
throne of Grace (4:16) – God's throne was formerly one of judgment…now a mercy seat, throne of Grace.
"…so that we may receive mercy…" (4:16) We are redeemed by the mercy of God.
Help (4:16) = speaks of the future.
Heb 5:1 For every high priest taken from among men is appointed on behalf of men in things pertaining to God, in order to offer both gifts and sacrifices for sins; 2 he can deal gently with the ignorant and misguided, since he himself also is beset with weakness; 3 and because of it he is obligated to offer sacrifices for sins, as for the people, so also for himself.4 And no one takes the honor to himself, but receives it when he is called by God, even as Aaron was.
definition of a priest (5:1)
taken from among men (a man)
ordained for man in things pertaining to God (ordained on behalf of men)
must be acceptable to God (God to God for men)
What is the significance of a priest? A priest in the old testament did not tell the people what God had to say, that was the prophet's job. A priest represented man before God (eg: making atonement). A priest functions for saved sinners, not lost sinners. Jesus is now the only priest. Priest can offer both sacrifices and gifts. (Christ even offered himself)
sins (5:1) = plural, not singular.
5:2 If you have weakness you can have compassion on those going astray.
5 So also Christ did not glorify Himself so as to become a high priest, but He who said to Him, "You are My Son, Today I have begotten You"; 6 just as He says also in another passage, "You are a priest forever According to the order of Melchizedek."
5:5 Christ did not glorify himself, instead he humbled himself.
5:6 Melchizedek means the king of Righteousness. Salem (peace).
Gen 14:19-20, Ps 110 = Melchizedek mentions in OT. Gen = Abraham pays tithes to Melchizedek and Melchizedek congratulates Abraham on his recent battle. Ps. 110 = a prophesy that a priest was coming after the order of Melchizedek. Here we get the interpretation of Melchizedek. More on this in ch. 7.
 7 In the days of His flesh, He offered up both prayers and supplications with loud crying and tears to the One able to save Him from death, and He was heard because of His piety. 8 Although He was a Son, He learned obedience from the things which He suffered. 9 And having been made perfect, He became to all those who obey Him the source of eternal salvation, 10 being designated by God as a high priest according to the order of Melchizedek.
5:7 Only three times in bible when Jesus crying is recorded. 1 – at the tomb of Lazarus. 2 – over the city of Jerusalem. 3 – garden of Gethsemane (a person expressed sentiment that he'd like to keep Jesus from the cross by having killed hima nother way. cup = death? didn't want Satan to kill Jesus in the garden? (McGee's interpretation). (Luke 22:42)
In the days of Christ's flesh he offerd up prayer and petitions.
Him who is able to save Him from death = God the father.
Supplications = petition, pleadings
God uses sufferings to teach us obedience. Obedience = the foundation of the word.
11 Concerning him we have much to say, and it is hard to explain, since you have become dull of hearing.