My Story

When I was a kid I remember my family used to have some really fun ornaments on our tree. The Tinman from the Wizard of Oz was probably my favorite. But there were whole fairy-tale themed sets in addition to the main characters from Oz–there were the three little kittens who lost their mittens, Cinderella's pumpkin carriage, Goldilocks and the three bears, the little old lady who lived in a shoe, Raggedy Ann and Andy, the Pied Piper, as well as traditional ornaments like toys and snowmen. I always liked those ornaments, the felt ones, way more than the other box of assorted ornaments–way more fun.
These ornaments were special–each and every one hand-made by either my mom or my grandma, when my mom was still a newlywed and didn't have a lot of decorations for their first (or perhaps second or third) tree.

Then, the point hit in my life where I had just graduated college, I had my own apartment, I was working, so I would actually spend most of Christmas season in San Diego rather than at my parents house, so I got my first tree, a small four foot one (pretty much as small as they came at the christmas tree farm I went to) so I wouldn't need so many decorations. And to decorate my tree, I needed ornaments, right? So I asked my mom if I could have some of the felt ones, and she was really awesome and said take whichever ones you want. Luckily, there were two sets of Oz characters, so neither one of us had to go without Dorothy on our trees.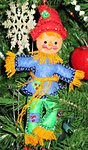 My mom surprised me with a wonderful idea that christmas–she reckoned they still make those ornament kits, so she thought she'd get me my own kit for christmas so I could make more of them! Well, you can bet it didn't take long for me to get totally hooked. I tried the easist looking one in the kit of 8 first, a mitten with some embroidery. The several-language-directions were a little hard to follow in that kit, and it wasn't without its mishaps–apparently it was supposed to make a right handed mitten, but I ended up with a left handed mitten because I didn't realize the printed side is the *outside* not the backside. Ooops.

It seemed considerably lot easier on the next ornament making it printed side out. And as soon as I showed my mom and grandma my first finished ornament, my grandma wanted to order me another onament kit even though I still had seven more ornaments to make on my first kit.
Well, now I'm hooked, not only are these fun to sew, its really awesome to have a tree full of pretty hand-crafted ornaments. And if you don't want them all for yourself, there's always plenty of less crafty people who'd love to have a handcrafted ornament or two for their own tree.