[Outdoor] [Indoor] [Outdoor/Indoor]
Outdoor Museums
Folsom Pioneer Village & Railroad Museum

An outdoor living history museum operated by the Folsom History Museum featuring opporunities to climb aboard a caboose, pan for gold, use an old-fashioned water pump, watch a blacksmith, and tour a settler's cabin. At the corner of Liedesdorff St & Wool St, one block from the Folsom History Museum.

(Photo by J. Brown)

Folsom Powerhouse State Historic Park

9980 Greenback Lane, Folsom

This park houses one of the oldest hydro-electric power-plants to send electricity long distances. Park has historic photos and interpetive exhibits, as well as a visitor center and a picnic area. The park is located between Sutter Street and the Rainbow Bridge, and is walking distance from downtown parking (or you can pay to park in the park's lot).

(Public Domain Photo)
Indoor Museums
823 Sutter St, Folsom

This small local museum features educational exhibits about local history, the gold rush, as well as numerous historical artifacts about everyday life in days gone by. Located downtown on Sutter Street, between Decatur and Wool streets. The fact that 12 and under may forewarn you that this may not hold the attention span of younger kids for extended periods.

(Photo by Folsom History Museum)

Sacramento Children's Museum

2701 Prospect Park, Rancho Cordova

Hands on learning and science museum for children. Exhibits include vacuum tubes that suck scarves, ball ramps, a neighborhood pretend play area, art studio area, and a baby play area. You may want to bring a change of clothes if your kids get wet or covered in paint using the water table exhibit or art studio.

(Photo by Sacramento Sidetracks)

216 O St, Sacramento

Amazing architecture, beautiful classical and modern art, and more for kids than you might expect. Highlights include Tot Land, an interactive space devoted entirely to families with children ages five and under as well as weekly family programs and activities such as Wee Wednesday, Artful Tot, and Baby Loves Art. They also do art-camps and birthday parties for ages 3+.

(Photo by Sacramento Sidetracks)

There are a few classic cars kids can climb in, in addition to the "look at" exhibits. Tthe cars are set up in eye-catching displays that tell the story of the evolution of the automobile. A guided tour may make the subject matter more approachable for kids.

(Photo by Sacramento Sidetracks)

California State Railroad Museum

The largest interpretive train museum in North America, located in downtown Sacramento. The second floor includes a toddler play area with several Thomas wooden railway train tables.

(Photo by Joe Ross)

California State Indian Museum

2618 K St, Sacramento

A smallish fairly hands-off indoor museum next door to Sutter's Fort featuring native american artifacts such as baskets and jewelry. No restrooms inside the museum.

(Photo by Expedia)

World of Wonders Science Museum

2 North Sacramento Street, Lodi

An Exploratorium style hands-on science museum. Learn about energy, electricity, magnetism, sight and more.

(Photo by TripAdvisor)

402 W. Weber Ave, Stockton

A hands-on, interactive museum for kids. Paint, sit in a real fire engine that has had it's doors removed, drive in the front of a real bus, play in a play house, or check out the train table, tractor, pneumatic tubes, and many other exhibits. This museum is about four times the size of the Sacramento one, making it worth the drive.

(Photo by Kids Busy Book)

557 Lincoln Street, Roseville

This local history museum is housed in what was once Roseville's first permanant library. Highlights of exhibits include an n-gauge model railroad display of historical local landmarks, and various turn of the century memorabilia and household goods. Free Admission.

Photo by City of Roseville

Roseville Telephone Museum

106 Vernon Street, Roseville

The Roseville Telephone Museum is among the most extensive collections of antique telephones and memorabilia in the nation. The museum is suitable for either a fun family outing, or a field trip. Admission is free, but hours and engaging tours are by appointment only, so call ahead to schedule your visit.

Photo by The Heritage Trail

Rocklin History Museum

3895 Rocklin Road, Rocklin

Go back in time to relive and explore Rocklin's history of Rock, Rails and Ranches. Follow the timeline of the small settlement of the 1850's to the thriving community of today.

Photo by Placer Herald

601 Lincoln Way Auburn

Interprets the rich history of the gold rush in Placer County. Using displays and a hands-on gold panning stream, museum docents help explore the most common methods of finding gold, from simple panning to hard rock and hydraulic mining. Free admission.

Photo by County of Placer

101 Maple St. Auburn

This museum presents an overview of Placer County history from the early Nisenan inhabitants through the latter half of the 20th century. Also includes a gold collection, American Indian artifacts, and the original Thomas Kinkade painting "Auburn Centennial". The Museum occupies the first floor of Auburn's historic Courthouse. Group tours are available by reservation. Free admission.

Photo by County of Placer

291 Auburn-Folsom Rd, Auburn

Originally a hortel for travelers, the Bernhard House is a living history museum filled with artifacts and furnishings from times long past. Home of the third grade living history program taking students back to the 1890s for a day. Free admission.

Photo by County of Placer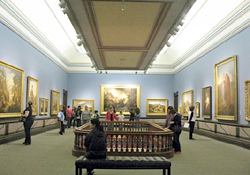 Crocker Art Museum (May A.)
Indoor/Outdoor Museums
These museums may have indoor and outdoor components.
California State Capitol Museum

10th and L Streets, Sacramento

See 40 acres of gardens and monuments surrounding the capitol, take a tour of the capitol building, see historic paintings, artifacts, artwork, murals, and antique furnishings, most of which relate to California and the Capitol.

(Photo by Chris Roberts)

Aerospace Museum of California

3200 Freedom Park Drive, McClellan, CA

Opened in 2007 at the former McClellan Airforce Base off I-80, this museum boasts a large collect of planes, engines, motion simulators, and flight memoribilia. You can explore the exhibits, sit in the cockpit of an airplane with your kids or learn the stories of various aircraft. Puzzles are placed on the main floor to keep kids busy, and there's a kid's area upstairs, with toys and hands-on activities. Try to go when it's not rainy since some exhibits are outside.

(Photo by J. Brown)

2701 L St, Sacramento

The Fort is a great slice of American and California history, in Midtown Sac. Glimpse into 1840s 1850s living prior to California admission to the Union. Demonstrations vary depending on volunteer docent availability. Quarters for parking meters may be needed Mon-Sat.

(Photo by Chris Roberts)

Maidu Museum & State Historic Site

Roseville

The first floor of the museum covers the daily lives of the Maidu people: food, clothing, medicine, weaving, etc. shown in colorful and sometimes interactive displays. The second floor contains paintings and works of art. Outside the museum are the historical trails which are about a mile long and include a seasonal wetland, a year round creek, petroglyphs, and bedrock mortars.

(Photo by TripAdvisor)

Historic Roseville Walking Tour

Main St, Roseville

Learn about the history of Roseville as you take a self-guided tour of the historic parts of Roseville following a tour brochure from the Roseville Historical Society and Chamber of Commerce. See the "Crooked Bridge", an Opera House, Firehouse, Railroad station and other points of historic interest.

Discovery Space and Science Center

This four room museum has some hands on exhibits for kids including live animals (it is a quiet zone however), a planetarium (ages 4+ only), and rotating exhibits exhibits with topics such as space, science, or archeology. Some portions of this musuem are outdoors.

(Photo by Plan My Getaway)

3141 5th Street, Davis

A small hands-on science museum in Davis. The exhibits at this museum change seasonally. They also have a few exotic animals on display year round. May be more interesting to grade-school kids than toddlers.

(Photo by The Davis Enterprise)

Hangtown Gold Bug Park

2635 Gold Bug Ln, Placerville

Explore an actual gold mine on a self-guided tour, check out the museum with exhibits that are ok to touch, take a hike or nature walk, and pan for gems. Up the hill there is a stamp mill where they used to pound up the rock to extract the gold.

Approx 28 min from central Folsom

Photo by Maile N.
More Museums
Sacramento Association of Museums